Lifted GMC Canyon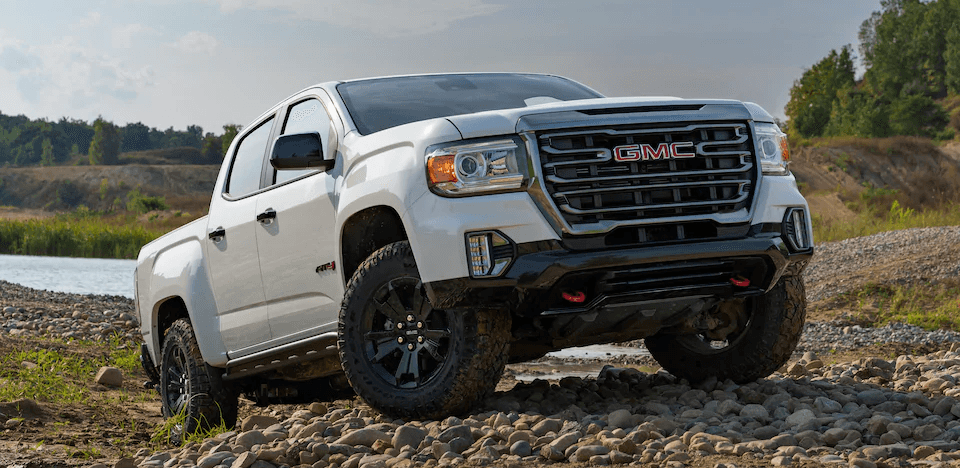 Are you looking to give your new GMC Canyon a more dominating appearance on Brunswick roads? Or, do you enjoy tackling off-road adventures outside of St. Simons and need a pickup that can keep up? Well, getting your GMC Canyon lifted is the perfect way to accomplish both. You may be curious as to how a regular Canyon vs. lifted GMC Canyon differ from one another. Lifting your GMC Canyon elevates its suspension, making it much more off-road-ready. Read on to learn more about the lifted GMC Canyon in this guide by Nalley Brunswick Buick GMC.
---
Why Should You Get Your GMC Canyon Lifted?
If you own this pickup in Waycross, you're probably wondering about how you can benefit from lifting your GMC Canyon. As stated previously, if you enjoy off-roading on the weekend, lifting your GMC Canyon makes it even more equipped to handle rough, uneven terrain. Also, from this higher vantage point, you'll have better visibility on Jessup roads.
GMC Canyon Lift Kits and Sizes
What are the different types of GMC Canyon lift kits available for Jessup? Whether you choose a spacer lift kit that makes room for bigger tires, or a suspension lift that increases ground clearance, choosing the right lift kit for your Canyon ultimately depends on your desired driving experience.
Take a look at these GMC Canyon lift kit sizes:
1-2 inches: If you'd like a higher vantage point for improved visibility on Brunswick roads, this lift will allow you to add bigger tires for that boost. However, it won't make that big of a difference to your truck's off-roading capabilities.
3+ inches: Suspension lifts that range anywhere from 3 inches to 6 inches are optimum for high-performance capabilities from off-roading to towing heavy loads. While this type of lift can be more expensive, it's a great option for drivers who want to maximize all that their GMC Canyon can possibly do.
GMC Canyon Upgrades
While lifting your GMC Canyon is an exciting enhancement, this isn't the only way you can further customize your truck. You can upgrade your Canyon with a wide variety of GM accessories that include:
Step bars
Brakes
Power boards
Factory backed wheels
And much more!
Get Your GMC Canyon Lifted at Nalley Brunswick Buick GMC
If you think a lifted GMC Canyon is just what you need to get the job done in St. Simons, customize your truck with Nalley Brunswick Buick GMC today. We'll ensure that your Canyon is outfitted with the proper parts to elevate your driving experience. Contact us today if you have any questions.
More from Nalley Brunswick Buick GMC
Are you looking to give your new GMC Canyon a more dominating appearance on Brunswick roads? Or, do you enjoy tackling off-road adventures outside of St. Simons and need a pickup that can keep up? Well, getting your GMC Canyon lifted is the perfect way to accomplish both. You may be curious as to how a…

If you're in the market for a full-size SUV that will accommodate your growing St. Simons family, but won't drain your bank account due to constant refueling, the new 2021 Buick Enclave is just what you're looking for. The Enclave offers Brunswick drivers a single 3.6L V6 engine that's paired with a 9-speed automatic transmission and…